Protests and clashes in Athens as parliament passes more reforms
Comments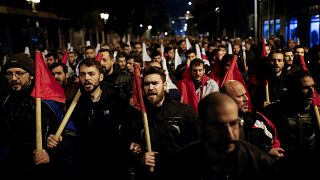 An estimated 20,000 people protested outside the Greek parliament on Monday where lawmakers passed a package of reforms demanded by international lenders in exchange for new bailout funds.
There is no alternative for us other than to fight back. This is the biggest challenge for my generation

Greek university student
Police fired teargas when one group hurled petrol bombs and stones at security forces who had formed a cordon to protect the building. A group of demonstrators tried to enter the building but were forced back by police.
"Demonstrators arrived peacefully in front of the parliament. However, once again molotov cocktails stones and tear gas have turned Syntagma Square into a battlefield," Euronews correspondent Apostolos Staikos reported from the scene.
Minutes before, trade union members had marched up peacefully to Parliament - their main grievance is the change to labour laws making it harder for unions to call strikes.
The bill also introduces a new electronic process for foreclosures on overdue loans and arrears to the state, opens up closed professions, and restructures family benefits.
'No alternative but to fight back'
"If for the government's continuing austerity programme is the only choice then there is no alternative for us other than to fight back, to demonstrate and work for a better future. This is the biggest challenge for my generation. This situation is unbearable. Around 500,000 young educated Greeks have already left the country in order to find jobs," university student Iasonas Andrianos told Euronews.
"Parliament shouldn't approve these measures. The government must take them back. They have exhausted us," said 55-year-old Georgia Koutsoukou, one of the demonstrators.
Earlier in the day bus, metro and city rail services were disrupted and some flights were grounded as workers went on strike to protest against the planned measures.
Seeking an end to bailouts
The vote means the government has succeeded in securing the reforms before a meeting on January 22 of eurozone finance ministers, who are expected to assess if Greece has done enough to conclude the third review of its current, 86 billion-euro programme that expires in August.
Concluding the review will help unlock about 6.5 billion euros in bailout terms.
Greek Prime Minister Alexis Tsipras told parliament the vote was pivotal for the country to emerge successfully from bailouts in seven months' time.
The legislation is a bitter pill to swallow for his Syriza party whose roots are in left-wing labour activism.
The threshold for calling a strike would be raised from a third to just over 50 percent under the measures. Business owners and Greece's creditors hope they will limit the frequency of strikes and improve productivity, which lags about 20 percent behind the EU average.
The government increased its majority by one, to 154 seats, after an independent politician said she would join Syriza's parliamentary group.