North and South Korea hold fresh talks over Winter Olympics
Comments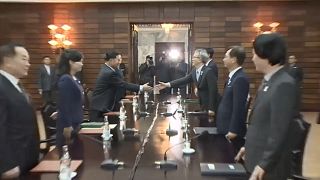 North and South Korea have held talks over Pyongyang's plan to send a delegation to next month's Winter Olympics.
A bus carrying officials from the south crossed Unification Bridge earlier on Monday for a meeting in the shared border village of Panmunjom.
Last week the North said it would send athletes and artistic performers to February's games.
Responding to reports Pyongyang has demanded the return of dozens of defectors in exchange for the resumption of family reunions, South Korea's Unification Ministry Spokesperson Baek Tae-hyun said: "The two sides agreed to discuss the issue of separated families' reunions at later date, once inter-Korean relations improve further. The two Koreas have agreed to hold talks around various fields, including this issue, which we will discuss further as part of discussions on South-North relations.
Seoul has been pushing for Pyongyang's involvement in the Olympics and last week's talks, the first in more than two years, appears to have eased tensions between the two neighbours.