Hezbollah blames Israel for car bomb attack on Hamas official
Comments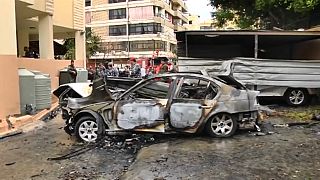 A member of the Palestinian group Hamas has been hurt in a bomb blast in the Lebanese city of Sidon.
According to security sources the targeted official was Mohamed Hamdan, who's also known as Abu Hamza.
No one has claimed responsibility for the attack. But al-Manar television, run by the Lebanese political and military group, Hezbollah reported he was an important person within the group with a security roleand that he was being tracked by Israel.
Footage of the the explosion's aftermath showed his destroyed car and the huge column of smoke sent into the sky.
A leader of the Palestinian Fatah movement in Lebanon said Hamdan was involved in operations in Israel. "The incident has Israeli fingerprints," Mounir al-Maqdah, the Fatah official, told Reuters.
Witnesses say the man targeted in the attack appeared to have been wounded in the leg. Health officials say he's lucky to be alive and is being treated for slight injuries.
Sidon, which lies some 40 kilometres south of the capital Beirut, is home to two of Lebanon's 12 Palestinian refugee camps.