Film-maker projects 'shithole' on Trump hotel in Washington
Comments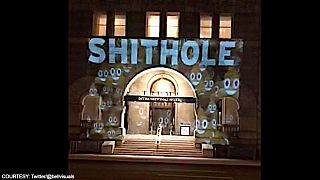 A series of words were projected onto the Trump International Hotel in Washington on Saturday night including the phrase "shithole" and "pay Trump bribes here"
The front of the building was also lit up with smiling poo emojis which burst forward.
It comes after the US president reportedly used the term 'shitholes' to refer to Haiti, El Salvador and some African nations in a meeting last Thursday.
The video was shared on Twitter by Robin Bell, who describes himself as an "editor, video journalist, and multimedia artist" who is based in Washington DC.
Bell has previously projected criticism of the president onto the hotel, according to The Washington Post.
The projections also included the phrases "this is not normal," "the president distracts us from politics that are harming us," "stay vigilant," and "this is not a drill".
In another show of defiance against the president, some Yelp users were leaving "shithole" comments and one-star reviews on the Trump International Hotel's page.
Trump was not in Washington over the weekend.