Two bodies recovered from stricken oil tanker
Comments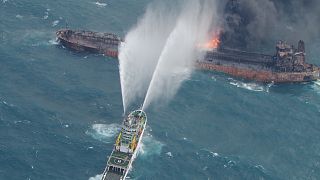 Two bodies have been recovered from an Iranian oil tanker that collided with a freight ship in the East China Sea a week ago.
Thirty Iranians and two Bangladeshis were on board at the time. So far, just three bodies have been recovered. Continued explosions have kept the ship ablaze, hampering rescue efforts.
Chinese state media reports the salvage team found the latest two corpses on the deck of the tanker, but searing temperatures of up to 89 degrees Celsius prevented them from entering the ship's living quarters. It's understood the black box data recorder has also been retrieved.
The tanker was carrying close to one million barrels of crude oil to South Korea when it crashed.