Protesters trash H&M stores in South Africa over 'racist' ad
Comments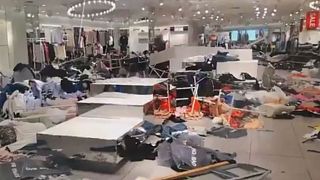 Copyright

Twitter/Anonymous via Storyful
Protesters in South Africa trashed several H&M stores on Saturday in response to an ad by the Swedish clothing giant, which has been branded "racist."
H&M became embroiled in controversy after it published an ad using a black child model wearing a hoodie with the phrase "coolest monkey in the jungle."
The ad sparked widespread criticism, with Canadian singer The Weekend among those to voice his outrage.
While the brand has apologised and removed the image, dozens of activists from socialist movement Economic Freedom Fighters (EFF) protested at H&M stores across South Africa on Saturday.
In footage shared on social media, activists were seen chanting, dancing, and trashing several stores.
Some held posters with slogans such as: "Away with H&M racist tendencies."
Police were called to some stores, where rubber bullets were used on demonstrators, according to local media reports.
In a tweet, EFF's Deputy President Floyd Shivambu said H&M was "facing consequences for its racism."
"All rational people should agree that the store should not be allowed to continue operating in South Africa," he added.
A H&M spokesperson told Euronews the brand was "aware of the recent events" and had temporarily closed its stores in South Africa.
"What matters most to us is the safety of our employees and customers… We continue to monitor the situation closely and will open the stores as soon as the situation is safe again," the spokesperson said, adding that no staff or customers had been injured in the protests.
"We strongly believe that racism and bias in any shape or form, deliberate or accidental, are simply unacceptable. We stress that our store staff had nothing to do with our poorly judged product and image."