Five times when advertisers got it really wrong
Comments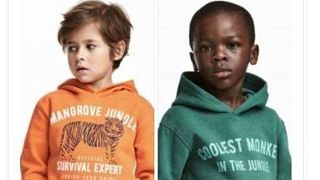 Clothing retailer H&M yesterday issued an apology for a photograph on its website that has been widely criticised as being racist.
The image shows a black child model wearing a hooded jumper emblazoned with the slogan "Coolest monkey in the jungle".
It ignited a backlash on social media with users taking issue with the use of the word monkey, which they said had racist undertones.
"We are deeply sorry that the picture was taken, and we also regret the actual print. Therefore, we have not only removed the image from our channels, but also the garment from our product offering globally," said H&M.
Here are some recent advertising campaigns that saw brands miss the mark for various reasons.
Pepsi and Kendall Jenner
An advert for Pepsi soft drink, starring Kendall Jenner, was withdrawn in April 2017 after widespread public condemnation.
The video showed the model leading a protest march of smiling demonstrators, finally offering a police officer a can of the fizzy drink.
It led to the drinks giant being criticised for appropriating the Black Lives Matter movement which saw demonstrators object to multiple police shootings of African Americans.
"Clearly we missed the mark, and we apologize," Pepsi said in a statement.
Dove 'transformation' ad
The beauty brand came under fire for a Facebook advert in October 2017, which featuring a black woman turning into a white woman after using Dove body lotion.
Critics said the transformation in the ad portrayed the former as "dirty" and the latter as "clean".
Nivea: 'White is purity'
Advertising for German personal care company Nivea has come under the spotlight on a couple of occasions in the last years.
The brand was forced to remove an advert from Facebook in early 2017 that some said was discriminatory.
A deodorant range marketed as "invisible" was marketed with the slogan "white is purity" and encouraged users to "keep it clean, keep bright. Don't let anything ruin it."
Niva responded by saying: "We are deeply sorry to anyone who may take offence to this specific post. After realizing that the post is misleading, it was immediately withdrawn."
Nivea promises to 'visibly lighten' black skin
Another advert that drew criticism was broadcast in Nigeria, Ghana, Cameroon and Senegal, starring former Miss Nigeria Omowunmi Akinnifesi, and promised to "visibly lighten" black skin.
A spokesperson from the company that makes Nivea products (Beiersdorf AG) said the company "recognised" the concerns raised and took them "very seriously". 
"Our intention is never to offend our consumers," they said.
Zara—striped pyjamas with yellow star
Social media users likened a pyjama top made by Spanish clothing brand Zara to clothes worn by Jewish concentration camp prisoners.
The babies' t-shirt, sold in 2014, featured horizontal stripes and a 'Sheriff' star. 
Zara issued an apology and said the top was no longer being sold in its stores.