Austrians protest at FPO return to government
Comments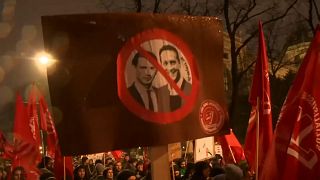 Thousands of Austrians took to the streets of Vienna on Saturday to protest against their country's new right-wing government. The new governing coalition made up of the conservative Austrian People's Party and the nationalist Freedom Party has taken a hard line against migration and refugees.
"Those right-wing extremists like Mr. Kickl or Mr. Hofer and the others from the FPO Freedom Party belong to a party whose roots go back to the NSDAP Nazi Party," said one woman on the march.
The demonstrators included students, leftist groups and pensioners who called themselves Grannies Against The Right along with others, carrying placards saying things like "Don't Let Nazis Govern."
Police in the capital said about 20,000 people attended the march.