'Time running out' in search for California mudslide missing
Comments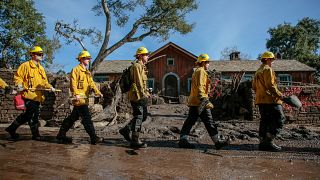 Californian authorities have expressed optimism but warned time is running out as they issued a call for help following deadly mudslides.
As many as seven people are believed to still be missing, while at least 18 have died, including four children.
Montecito, north of Los Angeles, and the surrounding area were particularly badly impacted by Tuesday's flash flooding and landslides. Residents there were ordered to leave their homes for at least a week.
The Santa Barbara County Sheriff's Office made a plea for information on any of the missing residents, but acknowledged that it would be a "miracle" to find anyone alive.
The subsequent destruction covered around 48 square kilometres and more than 2,100 personnel from local, state and federal agencies were tasked with search, rescue and relief efforts, according to the Cailifornia Department of Forestry and Fire Protection.