Thousands sign Swiss petition to keep Trump away from Davos forum
Comments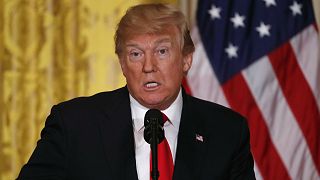 A Swiss campaign group has launched a petition calling on US President Donald Trump to stay away from the World Economic Forum in Davos later this month.
The petition, titled 'Trump not welcome - stay out of Davos', was launched by the Zurich-based group Campax on Wednesday morning, and had already received more than 9,000 signatures by the following night.
"US President Donald Trump stands for racism, Islamophobia, anti-Semitism, sexism, misogyny, warmongering, climate denial, attacks on human rights and a policy that deepens poverty and inequality," the petition says.
"A president, a human being who does not believe in anything that, in our view, constitutes a civilized society, has no place here in Switzerland."
The launch of the petition followed the surprise announcement from the White House on Tuesday that Trump would become the first sitting US president to attend the annual gathering of world leaders and chief executives in almost 20 years.
The White House said he plans to use the elite event to discuss his "America First" agenda.
"The president looks forward to promoting his policies to strengthen American businesses, American industries, and American workers," said Press Secretary Sarah Sanders.
Responding to news of his attendance, the World Economic Forum said Trump's engagement would "allow participants to get a direct perspective on US political and economic priorities."
Campaigners calling for the president to stay away say they want "World First, not America First."