UK ban on microbeads in beauty products
Comments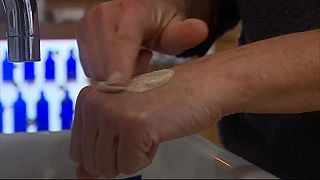 The world's oceans are currently under theat from millions of tonnes of plastic waste but within this rubbish lies a virtually invisible threat.
51 trillion microbeads are currently in our oceans and being ingested by marine life even entering the food chain.
Now a UK-wide ban on products with the beads has come into force.
Found in hundreds of different products, such as face washes, toothpaste and shower gels, the ban has been welcomed by campaigners and cosmetic companies who already use natural alternatives which break down in the oceans.
Although manufacturing of the beads has been banned, they will not be removed from shop shelves completely until July. And pressure in now mounting for a ban in the UK on plastic bottles which make up a third of the plastic litter in the seas.