MP performs anti-Brexit rap in parliament debate
Comments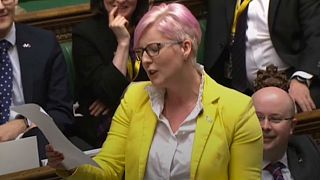 A Scottish MP has performed an anti-Brexit rap during a debate in parliament in a bid to draw attention to the risks stemming from the UK's decision to leave the European Union.
Following a long speech during a debate about the government's trade bill, Hannah Bardell, a lawmaker for the Scottish National Party (SNP) and its spokesperson on trade and investment, told fellow MPs in Westminster on Tuesday (January 9) that she wanted to share "a little lyric".
The MP went on to perform a minute-long rap in which she shared her fears for the future of trade relations and the UK's economy.
"B, R, E, X, I, T, fed up with Brexit? Me three," the politician began, before listing the issues she foresees from leaving the EU, including declining trade, travel and educational opportunities.
"Let's get together and stop this guddle, for the sake of our future, we need out of this Brexit muddle."
Bardell told Euronews she was inspired to write the lyrics after watching a television interview with popular British rapper Professor Green.
He was "talking about having more working class people in parliament who understand the impact policies have on people and engaging with voters and the public," she said.
"It occurred to me that it's a rather dry topic and perhaps deploying a different tactic might work so I thought, why not write a lyric/rap."
Bardell pointed out that she used the majority of her speech to talk about the trade bill, and just her closing remark for the rap.
"Politics is for everyone not just policy buffs and if we're going to reach a wider audience, that our decisions affect then sometimes different tactics need to be used," she said.
The politician added that the rap had the desired effect because it "got people talking about the issue and got coverage for a debate that may not have otherwise got such wide coverage."
Bardell's Brexit rap
B, R, E, X, I, T, fed up with Brexit? Me three.
Trade relations, heading down the swanny.
If it doesn't fit on the side of a bus, let's not say it, don't make a fuss.
Phase one was a floundering mess, the Prime Minister said she did her best.
The Irish border was the sticking point and the DUP.
Cross-border trade we're told is possible, it's about wording, you see.
A fudge not a dodge, and has the Right Honourable lady for Maidenhead really lost the thread?
The Brexit spool unravels, our economy headed south.
And what about travel?
Blue passports we're told, ah perfect, imported they'll be.
That's me, I'm sold.
Choose Brexit, choose a new queue, at the airport we'll be going through.
It's for the next generation of children I fear, Erasmus, international trade,
travel will be lost, I shed a tear.
LGBT rights, workers' rights, equal pay, all important things the EU has paved the way.
On the night of the referendum and then the next day, promises were made, they were dead straight away.
How will history judge our politicians of today? All of us here, not well I say.
Not all of us want to be facing this mess,
in Scotland we voted to stay in, we think it's for the best.
So let's get together and stop this guddle, for the sake of our future, we need out of this Brexit muddle.