Thai PM leaves cardboard cutout of himself to answer journalists' questions
Comments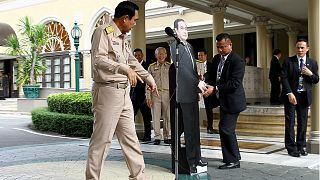 Thai Prime Minister Prayuth Chan-ochahas dodged questions from journalists at a news conference by leaving a cardboard cutout in his place.
"If you want to ask any questions on politics or conflict, ask this guy," Prayuth said to the assembled media at the government house in Bangkok before walking away.
Prayuth was giving a speech ahead of the Thai Children's Day at the government house on Monday.
Local media said the cardboard versions of the PM were prepared for school students to pose for photos.
Prayuth led a military coup in 2014 and was named PM later that year.
He said in December 2017 that he would use a special order that gives the military sweeping powers.