France to lower speed limits on most roads
Comments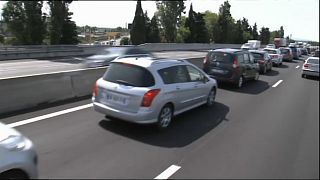 France is joining a small group of other European nations by imposing a slower speed limit on the country's secondary roads.
The current 90 mile per hour limit on main and B roads will go down to 80, joining the Swiss, Norwegians and Dutch who have among the lowest speed limits in Europe.
From being shockingly bad some 15 years ago, with zero-tolerance policing France has now dragged its road mortality rate down to just - above average levels of around 4,000 deaths per year. Half of these take place on secondary roads, so the French believe a lower speed limit may save some 400 lives a year.
With the move France joins Europe's slowcoaches, although the Danes have just broken ranks and decided to go the other way, raising their speed limit to 90. With five member states in each of these groups, and outliers even slower, at 70, there would appear to be concensus, but in fact six member states are quite happy to zip along at 100 kph on their secondary networks.
Sweden has Europe's lowest speed limits, and also the lowest number of road deaths.
Europe-wide, the numbers killed on the roads have fallen dramatically, with Sweden, Britain and the Netherlands the safest places to drive, while progress is slower in eastern Europe where road surfaces and vehicle maintenance are often inferior.
France has the world's densest road network, so the police will have their work cut out ensuring drivers stick to the new limits.