Eurozone jobless rate hits lowest level in almost nine years as recovery strengthens
Comments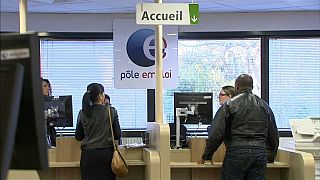 Unemployment in the Eurozone hit its lowest rate for almost nine years last November, the latest sign of the revival of the single currency area's economy.
Eurostat, the EU's official statistics agency said that the jobless rate fell to 8.7 per cent, hitting analyst predictions and down from 8.8 per cent in October.
The figures are the lowest since January 2009, when the eurozone was reeling from a deep recession following the global financial crisis.
The agency said the number of unemployed fell by 107,000 during the month, taking the total down to 14.26 million.
Unemployment across the region has been falling steadily over the past year.
Figures later this month are expected to show that economic growth picked up in the fourth quarter, possibly to 0.8 percent.
The positive data come after the European Central Bank (ECB) announced it was starting to wind down the massive support it has given the 19-member currency zone to help it through the crises of recent years, in view of the solid economy.
The ECB remains concerned about the muted levels of inflation in the eurozone despite the positive jobs picture, which should typically boost prices with Europeans more ready to spend.
Eurozone inflation is still stubbornly low - slowing to 1.4 in December compared with the ECB's target of two per cent - which has forced bank chief Mario Draghi to reassure investors the era of cheap money was not completely over.
Whilst unemployment across the region has been falling steadily over the past year, substantial differences remain.
The biggest drops were seen in Greece and Portugal, two of the biggest victims of the eurozone debt crisis. 
Rates still remained high in Greece and Spain; still, even there, there are signs of improvement. Spain's jobless rate, which in recent years stood at around 25 percent, is now down to 16.7 percent, while Greece's has been steadily falling, though still high just above 20 percent.
The lowest unemployment rates were recorded in the Czech Republic at 2.5%, and Malta and Germany, where the rate was 3.6% for both.