Cambodia marks 39 years since fall of Khmer Rouge rule
Comments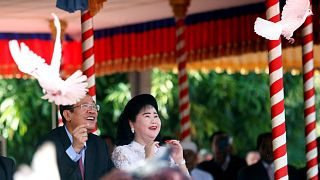 -
Cambodians on Sunday marked 39 years since the fall of the Khmer Rouge, who wiped away nearly a quarter of the country's population.
A ceremony in the capital Phnom Penh was led by Prime Minister Hun Sen, in office since the Vietnamese invasion that brought down the regime in 1979.
While some mourn this date as the start of a 10-year occupation by their neighbours, Sen's ruling party celebrates it as a day of liberation.
Pol Pot, who died 20 years ago, championed a most brutal form of Communism, tearing apart the country to ban religion and turn people into revolutionary agricultural workers.
Between 1975 and 1979, his rule of terror killed an estimated 1.7 million people. Most died of torture, starvation and disease in labour camps or in mass executions in what became known as the "killing fields".