Australia swelters in record high temperatures
Comments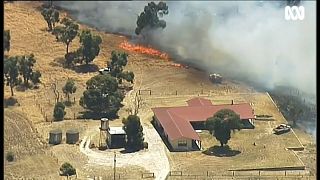 Record high temperatures in Australia have sparked bush fires across three states in the south east, burning several homes and other buildings to the ground.
Firefighters have been battling blazes whipped up by high winds throughout the weekend.
On a day of what's been described as catastrophic conditions, a "wall of flames" tore through more than 8000 hectares.
Emergency warning were issued in Victoria where residents in rural areas were advised to evacuate homes and seek shelter as the fires encroached.
A away from the countryside and the authorities have had to transfer scores of homeless people to hospitals for treatment as temperatures in city of Sydney reached a scorching 47.8 degrees Celsius.
In September 2017 Australians were warned to prepare for a dangerous bushfire season after one of the driest winters on record.