Switzerland seal third Hopman Cup title
Comments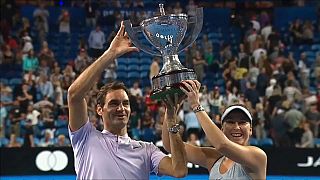 Switzerland have won their third Hopman Cup after beating Germany in the final at the Perth Arena in Australia.
The title was decided by the mixed doubles after Roger Federer defeated Alexander Zverev in their singles match and Angelique Kerber tied the score with victory over Belinda Bencic.
But powered on by Roger Federer's aggressive tactics on the fast court, the Swiss pair took the first set 4-3.
The duo maintained their domination in the second to take the set 4-2 and give Switzerland the title.
It's the second time Federer's lifted the Hopman Cup since he triumphed down under alongside Martina Hingis when he was only 19 in 2001 and she was world number one.
"She (Hingis) had a great career and to have that in a small country like Switzerland is very rare," world number two Federer said after his country's latest triumph.
"It made me also believe with hard work and dedication you get really far because I didn't believe that much at that point when I was younger, I thought it was more all talent."