Watch: spectacular moonlight journey through the Alps
Comments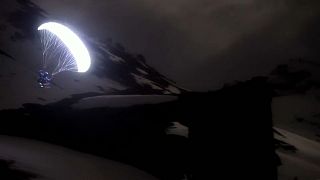 Under cover of darkness, Valentin Delluc took a leap of faith and soared across the snowy peaks of the French Alps.
The 25-year-old is a specialist speed rider – a discipline combining skiing and paragliding. For this particular feat, he glided across the Bossons glacier at the foot of Europe's highest mountain, Mont Blanc.
Using just the moon and an LED ribbon to guide him, the Frenchman navigated his way across 1,500 vertical metres. Four minutes and 20 seconds later he'd eased his way to the bottom, turning his dream into reality. 
The video, shot in March 2017, was released on January 3 this year.