Whilst US south freezes, parts of the north basks in unusually warm conditions
Comments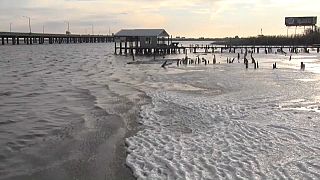 The harsh winter weather that has brought subzero temperatures to parts of the US and has been blamed for at least 12 deaths, has now reached parts of the south that rarely see flurries of snow, let alone accumulation.
The National Weather Service (NWS) said a wintry mix of snow and freezing rain was expected mainly along the Atlantic seaboard from Florida to North Carolina. 
It warned that icy roads and low visibility could make driving treacherous.
The blistering cold has left citrus farmers in Florida taking drastic measures to protect their fruit.
They are using mirco-irrigations sprinkler systems create ice around the citrus plants to keep them warm.
Farmers say the trees should be safe until temperatures drop to fourteen degrees.
In contrast parts of the nation's northernmost states were in contrast basking in unusually balmy conditions
The official temperature tied a record 44 degrees (fahrenheit) in Anchorage, set in 1981 and 2011. 
Some parts of Anchorage had temperatures closer to 50 degrees.
The NWS says it's about twice as warm as the normal high of 24 degrees thanks to high and low pressures working to push tropical air to the north.