Trump's aid threats leave Palestinians & Pakistanis cold
Comments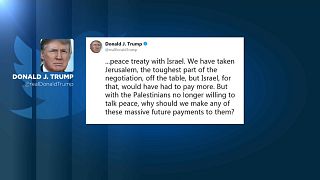 The United States is very generous with its aid and the dollar has always been integral to foreign policy, but President Trump's weaponising of donations to punish the UN and now the Palestinians and possibly Pakistanis shows how easily the pursestrings can be cut if recipients do not play ball.
In the West Bank and Gaza, Palestinians said a cut in aid would be met with a response.
"Palestinians will react in the same way: if he cuts the funds we should withdraw from the Oslo agreement, freeze security coordination with Israel and even dismantle the Palestinian Authority, if needed, and go back to the starting point. This is the suitable reaction to Trump's decisions," was one Gazan man's reaction.
Among the top 16 US aid recipients, dominated by Israel and Egypt, Gaza and the West Bank are 15th and 16th, while Pakistan is in 11th place.
Of the 27 biggest recipients only three - Colombia, Ukraine and Bangladesh - are outside Africa or the Middle East.
Pakistan is by far America's biggest bet in Asia after Afghanistan. All could feel the chill from the White House at any time.
In Pakistan Trump's comments have been met with anger and disbelief as some feel their army is fighting a war against their brothers at America's behest, and getting no thanks for it, while it exposes them to terrorist reprisals.
"First, the USA dragged us into the war in our neighbour, Afghanistan, and caused us losses, and then Afghanistan became our enemy. We have spent billions of dollars in the war in North Waziristan. That is the United States' war, that was not our war, but now it has become our own war with them. Then when we have success against terrorists, Donald Trump comes up with yet another issue," complained one man.