Pakistan rejects Trump's "lies and deceit" tweet
Comments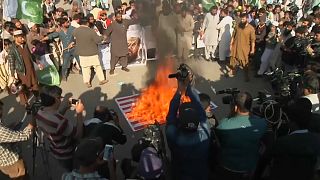 Pakistan's cabinet and military chiefs have held an emergency meeting in response to President Donald Trump's New Years Day tweet accusing the country of "lies and deceit".
Earlier US ambassador David Hale had been summoned to explain Trump's comments.
Pakistan's government has accused the US president of using social media once again for "domestic consumption".
Trump tweeted that the US "has foolishly given Pakistan more than 33 billion dollars in aid over the last 15 years, and they have given us nothing but lies & deceit,...."
Opposition leader Imran Khan has slammed Trump for attacking Pakistan's record on terrorism .
"Trump has no understanding of the war in Afghanistan and the destruction it has caused in Pakistan. It seems like he has no background knowledge about it at all."
Scores of Pakistanis staged a protest in the southern city of Karachi condemning Trump's "tweet diplomacy".
Holding up Pakistani flags, the protesters shouted anti-US slogans. They also burned aUS flag and a picture of Trump in the demonstration organised by "Difa-e-Pakistan Council" (Defence of Pakistan Council), a group of religious-political parties.
Relations with Washington have been strained for years over Islamabad's failure to deliver 9/11 mastermined Osama Bin Laden and allegedly allowing Afghan Taliban commanders to live on Pakistani soil.