North Korea could unite with South Korea for the Winter Olympics as the two countries open a communication hotline
Comments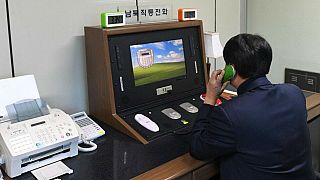 It could be the first symbolic step towards a reconciliation.
North Korea has reopened a border hotline with Seoul to discuss sending a delegation to the Winter Olympics in South Korea's Pyeongchang next month.
The two countries, who are technically still at war having only signed an armistice after the Korean War, could even compete as a single nation in next month's Games.
The mountain village of Pyeongchang, is just 80 km from the inter-Korean border and the possibility of the two Koreas forming teams in figure skating and ice hockey for the Games has previously been raised.
''South Korea will welcome North Korea when they decide to participate in the Olympics." said Pyeongchang 2018 Organising Committee President, Hee-Beom Lee.
South Korea have already announced that when they decide to come to Pyeongchang, the government will allow them to come by road and also when they have supporting teams then the Korean government will allow them to come by ships''. 
The two Koreas have competed together before, including football and table tennis matches, but have never joined forces for a major event such as the Olympics or the Asian Games.
They even marched together at the Sydney Olympic in 2000 , but relations have since soured.