Harry and Meghan: royal romance set to boost UK economy
Comments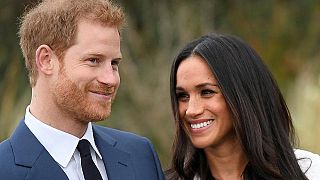 The UK's Prince Harry and US actress Meghan Markle now seem set to boost Britain's economy to the tune of 500 million pounds, or approximately 545 million euros. Analysts predict the increase will come from tourism, celebrations and advertising surrounding the couple's upcoming nuptials.
David Haigh, the founder and chief executive of Brand Finance, broke down the figure.
"We think approximately £200 million will come from tourism, travel, hotels. About £150 million will come from people spending money having parties and celebrating. About £100 million will be free advertising for the UK around the world and the remaining £50 million will be people buying t-shirts, hats, mugs and commemorative things."
The tourism industry is gearing up for a bumper year and nowhere more-so than Windsor, west of London, where the couple will tie the knot in May. Its mayor, Councillor John Lenton, said he was delighted the wedding would be held in the royal borough.
"It's a great honour, we are delighted that the wedding will be taking place in Windsor. [...] And we hope it will help to improve our tourist trade. We have 7.5 million tourists a year in Windsor anyway. We hope the number will increase and our biggest source of tourists of course is America."
National tourism agency VisitBritain estimates 41.7 million overseas visitors will head to the UK in 2018.