Two killed by DR Congo security forces in protests, activists say
Comments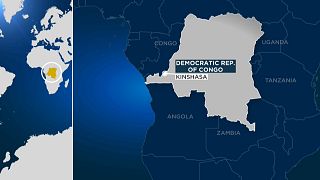 Reports from the Democratic Republic of Congo say security forces shot two men dead during protests against President Joseph Kabila's refusal to step down from office.
The advocacy group Human Rights Watch said the men were killed on Sunday outside the Saint Alphone church in the Congolese capital Kinshasa.
Police and soldiers set up checkpoints across the city and ordered internet and text messaging services to be cut after Catholic activists called for protest marches following Sunday mass.
Protests are also reported in the southeastern town of Kamina.
Dozens of people have been arrested and at least seven seriously wounded by gunfire, even though police denied using live fire during the protests.
"We are operating in the daytime. Everyone is watching us. It's not the night," police spokesman Pierrot Mwanamputu told the Reuters news agency.
Sunday's demonstrations were scheduled to coincide with the one-year anniversary of President Kabila's promise to hold an election to choose his successor by 2017 - although the election has since been postponed to December 2018.
Kabila is under pressure to not amend DR Congo's constitution in a way that would allow him to stand for a third term in office.
Activists are also calling on him to release political prisoners in the country.