At least 7 dead in DR Congo protests
Comments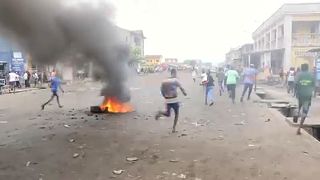 -
United Nations peacekeepers say security forces have killed at least seven protesters in the Democratic Republic of the Congo.
Protesters want President Joseph Kabila to step down from office.
"We tell ourselves we are in a democratic state, but we are not in a democracy. We are in the church, in the middle of prayer and in the moment that the priest lifted the symbolic Eucharist, they shot tear gas," one woman in Kinshasa said on Sunday (December 31). "This doesn't happen anywhere else".
Kabila's presidential mandate ended in December 2016 - and he had agreed to hold an election by the end of 2017.
Now people fear he will try to remove term limits that forbid him from running again.
Some blame former Belgian minister and European commissioner Louis Michel for backing Kabila.
"The person who brought us KabiLa is [former European Commissioner for Development and Humanitarian Aid] Louis Michel," one protester complained. "He is the one who told the international community that Kabila is a serious man. So Louis Michel needs to come get Kabila and leave since his mandate is over".
Congolese authorities have banned demonstrations and said that gatherings of more than five people will be dispersed to maintain public order. All internet and SMS services have been cut until further notice.
U.N. observers say they have documented more than 120 arrests across the country and a number of serious injuries.