Russia: suspect held over St Petersburg supermarket blast
Comments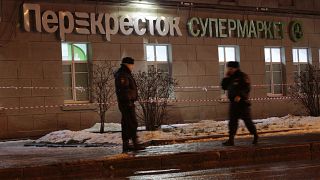 Russia's FSB security service says it has detained the individual suspected of organising and carrying out the bomb attack in a St Petersburg supermarket this week.
It said the person was apprehended on Saturday, giving no details of their identity or location. The suspect has begun being questioned.
"The suspect has been handed over to Russia's Investigative Committee for further investigative procedures," the FSB said in a statement.
The self-proclaimed Islamic State claimed responsibility for the blast on Wednesday in a branch of the Perekrestok supermarket chain, without providing any evidence.
Investigators said the device was a homemade bomb packed with pieces of metal. Russian President Vladimir Putin described it as an act of terrorism.
While no information about the suspect has been officially released, Russia's Interfax news agency reports that he is a 35-year-old local man who claims to be part of a nationalist occult movement.