Winter storm brings a white Christmas to Midwest, Northeast
Comments
By Daniella Silva and Daniel Arkin and Erik Ortiz and Alex Johnson and Rachel Elbaum with NBC News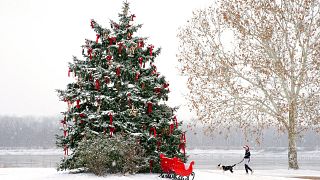 Copyright

Robert Cohen St. Louis Post-Dispatch via AP

-
Dreaming of a white — and windy — Christmas?
A winter storm that brought several inches of snow to parts of the Midwest blanketed some areas in the Northeast on Monday, snarling holiday travel.
As much as a foot of snow could fall on New England, with some areas in the region at risk of freezing rain, according to the National Weather Service. Snow inundated the Boston metro area at a rate of one inch an hour on Monday morning, according to the Weather Channel.
The storm was also pummeling Maine on Monday afternoon with heavy snow after making its way through much of the Northeast, according to the Weather Channel. More than a foot of snow has fallen so far in parts of the state.
A winter storm warning remained in effect for parts of Maine until 7 p.m. ET Monday evening, with additional snow accumulation expected,according to the National Weather Service.
"Plan on difficult travel conditions, including during the evening commute," the weather service said.
Less snow fell in southern New England, with most areas reporting 4 inches or less, according to NBC Boston.
More than 2,700 flights were delayed and nearly 150 others canceled across the U.S. as of 4:30 p.m. ET Monday**,** according to FlightAware, the flight data website. Several flights out of Logan International Airport in Boston were postponed or nixed, leaving some flyers stuck on the runway.
Midwesterners spent the morning digging out. Around 3 inches of snow fell in Chicago, where the hometown Bears beat the Cleveland Browns at a Soldier Field filled with shivering fans and freshly fallen powder on Sunday.
A half-foot or more was recorded in parts of western Nebraska and more than 4 inches blanketed parts of Missouri and Michigan. In northern Indiana, police said slick and icy road conditions could still make driving difficult for holiday travelers.
Strong winds were also set to whip through the area, with several inches of snow likely along the Great Lakes.
That means "a white Christmas for a lot of locations which originally looked a little questionable whether or not we'd have at least an inch of snow on the ground," said Danielle Bank, a meteorologist for The Weather Channel. "We're going to see a lot of 3- to 5-inch amounts. We know that for sure."
The Interstate 95 corridor south of Boston was expected avoid the snow, though not the rain and wind. Gusts of 40-55 mph were likely to blow through Boston, New York City and Philadelphia, according to Frank Giannasca, a senior meteorologist for The Weather Channel.
The windchill would make it feel like 20-degree weather, he added.
Travelers in parts of southern New York, Connecticut, Rhode Island and New Jersey could face a slippery morning with freezing rain and/or sleet making holiday journeys hazardous.
The winter weather is expected to stick around through the New Year. Forecasters say repeated surges of bitter, arctic air will keep temperatures below average across the northern United States.