UN passes tough new sanctions on North Korea
Comments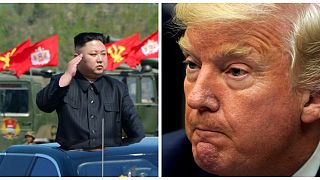 The United Nations Security Council has unanimously passed tough new sanctions on North Korea.
The US-drafted resolution seeks to limit North Korea's access to petroleum products and industrial equipment. It also targets the country's access to foreign currency. North Koreans working abroad must return home within two years.
"Today's resolution achieves an 89 percent total reduction of the Kim regime's ability to import gasoline, diesel, and other refined products," said Nikki Haley, US Ambassador to the UN. "And should the North Korean regime conduct another nuclear or ballistic missile test, this resolution commits the Security Council to take even further action. It sends the unambiguous message to Pyongyang that further defiance will invite further punishment and isolation".
The United Nations Security Council just voted 15-0 in favor of additional Sanctions on North Korea. The World wants Peace, not Death!

— Donald J. Trump (@realDonaldTrump) December 22, 2017
The resolution comes in response to North Korea's intercontinental ballistic missile test last month. The country's leader Kim Jong Un's touted the test as a "breakthrough" that puts the U.S. mainland within range of North Korea's nuclear weapons.
Tensions have been rising over North Korea's nuclear and missile programmes, which years of UN resolutions have failed to deter the regime from pursuing.