Funerals for Gaza Palestinians held
Comments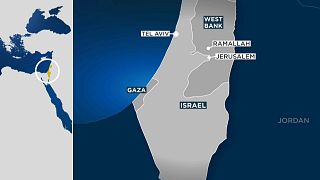 The funerals of two Palestinians shot dead in clashes with Israeli troops on Friday have been held in Gaza.
The deaths of the men, both in their twenties, came a day after the UN General Assembly voted to denounce Donald Trump's recognition of Jerusalem as Israel's capital.
The on-going fallout from the US President's move has seen violence between Palestinians and Israeli security forces on almost a daily basis.
Gaza's health ministry said along with the two men shot dead on Friday, 60 others were wounded with live fire.
In a statement, the Israeli army said some 2,000 Palestinians had faced off against its troops.
In addition to Friday's clashes on the Gaza border fence, there was unrest in the occupied West Bank, notably Bethlehem.
Tension also remains high in Jerusalem in the run up to Christmas. Friday's prayers at the Al-Aqsa Mosque once again turned into protest.
Hundreds of Palestinians held up pictures of Turkish President Recep Tayyip Erdogan, who has spoken out against the U.S. move, while a number of demonstrators were bundled away by Israeli security forces.
Palestinian President Mahmoud Abbas has said he will not accept any US plan for peace with Israel, following Washington's decision to recognise the disputed holy city as the Israeli capital.