Catalonia: Separatists retain majority
Comments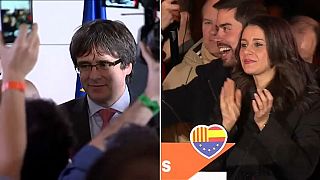 Celebrations on both sides of Catalonia's political divide.
Both Carles Puigdemont – leader of the pro-independence Junts per Catalunya and Ines Arrimadas – head of the pro-union Ciutadans – claim victory.
Puigdemont because he will likely lead the region's next government; Arrimadas because her center-right party won most seats with 37.
The right of centre Junts per Catalunya came a close second with 34 – two ahead of the pro-independence leftist ERC.
Anti-capitalist CUP won a disappointing 4 seats but will likely join ERC and Puigdemont to push the separatist parties past the 68 seat majority to form a government.
The evening's big losers – the Catalonia's People's Party at 3 seats and Socialist PSC with 17.