Journalist killed in Mexico at son's school
Comments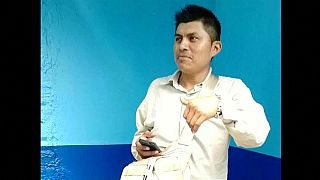 A journalist was shot dead on Tuesday in the southern Mexican state of Veracruz as he attended a Christmas celebration at his son's school, the latest murder in the country's deadliest year on record for media workers.
Gumaro Perez, 35, who regularly wrote about security and drug trafficking, was shot at four times and killed in the Acayucan municipality of Veracruz, making him the third journalist to be killed in the state and twelfth overall in Mexico this year. Perez worked for Golfo Sur and Voz del Sur, among other media organisations.
A lone gunman entered Perez's 6-year-old son's classroom, where the Christmas celebration was being held, and fired at Perez, according to witnesses.
The organisation Reporters Without Borders said on Tuesday that at least 65 media workers around the world were killed doing their jobs this year, including 50 professional journalists. Mexico was one of the most dangerous places to be a journalist, according to the report.
Since 2000, at least 111 media workers have been killed in the country, with 38 deaths occurring since Enrique Pena Nieto became president in December 2012, according to advocacy group Article 19.