A helping hand for ten-year-old Cameron
Comments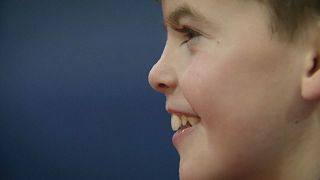 Ten-year-old Cameron Millar is getting a very special Christmas present this year. Thanks to a successful crowdfunding campaign, boosted by support from his local radio station the schoolboy is to receive a 3D-printed prosthetic hand, much like his favourite Star Wars character.
"He has a bionic hand, like how I'm going to be having a bionic hand, so I'm going to feel a lot like Luke Skywalker", he said.
The new hand is the first to be medically approved in both Europe and the US. At a cost of around 11,300 euros, it is being made by UK-based company Open Bionics. CEO Joel Gibbard explained how it worked.
"It works by reading signals from the user's muscles, so when you put the prosthetic on, there are little sensors inside the socket and they're picking up little signals from the person's muscles."
Born without his right hand, Cameron has found a way around many obstacles. But he is right-side dominant, so life is soon to become much simpler.
"I can't build Lego as fast as other people, and I can't really play the drums," he said.