California burns as Thomas fire becomes state's third-largest
Comments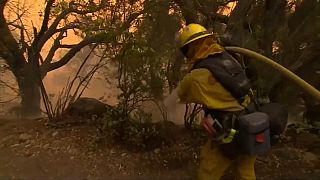 Thousands more Californians are on the move with forcible evacuations in Santa Barbara as the Thomas fire lashes towards the ocean, whipped by high winds that are forecast to continue for the next 48 hours.
It's a ghost town. Everything is shut down. It's very, very eerie.

Santa Barbara
Prosperous Montecito on the city's outskirts has been badly damaged and in total hundreds of thousands of people have been forced from their homes in southern California in what is now officially the state's third-biggest wildfire.
Thomas is being described as a "beast", and some 8,500 personnel using nearly 1,000 engines and 32 helicopters are battling it.
Firefighters say the blaze was 40 percent contained on Saturday evening, but the veering winds had sounded the alarm for Santa Barbara just hours before.