A royal master class in interviewing techniques
Comments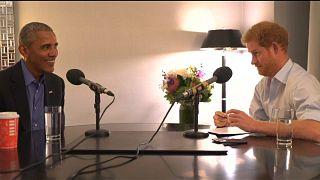 Britain's Prince Harry has taken on the role of radio presenter, showing his skill at putting his guest at ease.
The interview, conducted in September at the Invictus Games in Canada, is scheduled to be run on December the 27th on BBC Radio Four's Today Programme, which Harry is guest editing.
In the pre-interview chat, Barack Obama shared light-hearted banter with Harry.
Obama: "Do I have to speak faster? Because I'm a slow speaker."
Harry: "No, not at all."
Obama: "Ok. Do I need the British accent?"
Harry: "But If you start using long pauses between the answers, you're probably going to get the face."
Obama: "Let me see the face."
(Harry gives stern, disapproving look).
Obama: Okay. I don't want to see that face."
Harry: "You're excited about this and I'm nervous about it, that's what's quite funny."
Obama: "It is fun. I will interview you if you want."
Harry: "No, no, let's keep it this way, I much prefer that."