Shift in US space policy? Trump promises trip to moon and Mars
Comments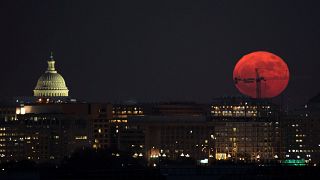 Copyright

Bill Ingalls/NASA/Handout via REUTERS
America is going back to the Moon, and on to Mars, promised President Donald Trump on the 45th anniversary of the last Apollo mission.
On 11 December he signed off a directive that has been flagged as a change in space policy for the US, although in reality, it enshrines many of the plans that NASA already has for further exploration of our solar system.
Trump said he wanted the agency to "lead an innovative and sustainable program of exploration with commercial and international partners to enable human expansion across the solar system and to bring back to Earth new knowledge and opportunities."
Although the White House is selling this as a bold new initiative, those in the space community have long-championed the idea of building a base on the Moon as a kind of 'stepping stone' to colonization of Mars. It's also already a reality that NASA is handing over responsibility to near-Earth orbit services, such as ferrying supplies to the International Space Station, to commercial companies such as Orbital ATK and Space X.
What the Trump announcement does do, however, is give the go-ahead to NASA's 2019 budget to fully reflect that move towards re-establishing mankind's presence on the Moon, and support what the agency calls the 'Journey to Mars'.
To the Moon, then Mars?
Although some space experts and major players such as Elon Musk believe we should skip the Moon and head straight for the red planet, there are many arguments to defend the idea that the 'stepping stone' of the Moon makes a lot more sense and generates a lot less risk as we humans develop the support systems to maintain life outside our atmosphere for extended periods.
One of the simplest and most persuasive reasons for using the Moon as a 'base' is the fact that it's relatively close to Earth. To travel to the Moon takes a few days, while traveling to Mars takes about six months. The Moon doesn't have an atmosphere, while Mars does, but neither could be described as welcoming environments. So our natural satellite is a superb spot to develop technologies, such as underground habitats, that would be needed for humans to survive the extremes of temperature and harsh radiation of life on Mars.
The Trump push to move space exploration beyond the 400km high orbit of the ISS also tallies nicely with some of the concepts being floated in Europe and other space-faring countries. When ESA Director General Jan Wörner came to office he grabbed headlines with his talk of an international 'Moon village', which would be a permanent or semi-permanent base featuring both manned and robotic activity on the lunar surface.
This is still not an official ESA programme, but remains a concept around which many current astronauts and space exploration engineers are in agreement.