The EU has options to beat people smuggling - just not easy ones
Comments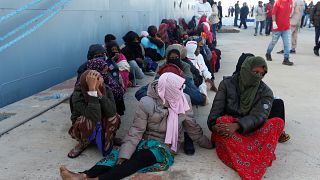 The opinions expressed in this article are those of the author and do not represent in any way the editorial position of Euronews.
By Fabrice Langrognet
For now, as frustrating as it might be, smugglers are winning. Winning bigger, in fact, and to the migrants' expenses.

University of Cambridge
A scam. A "callous trade". A "major criminal operation". In the words of EU agencies dealing with human smuggling from a law enforcement perspective, there is not much room for hesitation. Immigration itself may be a complex matter; but when it comes to people earning profits from helping others sneak into Europe, there should be no second thoughts, only determination in fighting them. The official agenda of the bloc was probably best summed up by German Chancellor Angela Merkel: "We must not permit people to make money from the suffering of others".
So far EU efforts to disrupt this business – worth billions of euros a year – have been embodied by Operation Sophia. Launched in 2015 in the Mediterranean, it is meant to "disrupt the business model" of smugglers, in particular by seizing and disposing of their vessels. As of mid-2017, it had officially led to the arrest and transfer to the Italian authorities of 110 suspected smugglers and traffickers, destroyed 470 boats, and helped rescue close to 40,000 lives.
Unfortunately, according to Amnesty International, Libyan officials and even the House of Lords, the operation itself, beyond its commendable rescue efforts, may well have been counter-productive. For one thing, smugglers are able to take on more and more clients and send them in partial, less costly journeys a few dozen miles off the Libyan coasts, outsourcing the rest of the trip to the military ships and NGOs. In addition, the crossing conditions have deteriorated for migrants, who embark on unseaworthy boats, as the better and bigger ones get destroyed.
Among other factors, this approach seems to have driven smuggling towards a more criminal rather than more businesslike model in recent years. The massive demand makes smugglers less mindful of their long-term reputation. The increased logistical hurdles and legal risks, which are driving up prices, draw the boldest and best organized criminal organizations, even though the Libyan situation may not be indicative of other areas, where small-scale, less exploitative, networks are still in charge. There is some evidence that these smaller operations are more reliant on reputation and therefore tend to deliver a better "service" to their "customers".
In any case, the restrictions also lead to increasingly dangerous itineraries and practices, as shown by new, life-endangering, concealment methods.
For now, as frustrating as it might be, smugglers are winning. Winning bigger, in fact, and to the migrants' expenses. Then what? Three unorthodox ideas have been put forward to supplement, and refine, the repressive approach.
For a start, the more legal migration is facilitated, the less likely migrants are to resort to smuggling. As the European Commissioner for Migration puts it, "for every door that is closed to irregular migration, a window should be opened to offer a safe pathway." More specifically, specialists have made sensible suggestions to undercut smuggling markets, for example by issuing humanitarian visas to migrants and let them fly into Europe.
The second idea consists in trying to disincentivise smugglers in order to curb the phenomenon, despite the political and legal acrobatics that this implies. In fact, some in the EU seem open, at least unofficially, to practices that are a far cry from the official muscled rhetoric. In recent months, Italy not only started to outsource its anti-smuggling operations to Libyan authorities just as the EU as a whole had done with Turkey in 2016. It also reportedly struck a direct, clandestine deal with a militia directly involved in the smuggling business –thus following, interestingly, in Australia's footsteps. The principle is as cynical as it is simple: bribe smugglers with money and political status, in exchange for their ceasing to send migrants your way. It does not look good and could prove hard to sustain in the long run.
Finally, the EU and its Member States could develop a graduated and differential enforcement framework, facing different types of smugglers with different types of response. The most forceful efforts to disrupt smuggling could focus on the biggest, most lucrative organizations, which are also the most likely to put migrants at risks not only during the journey but also by various forms of exploitation. 
Since Europe's resources are limited and demand for the smuggling service is not, the EU cannot help but letting some smugglers operate. The least bad solution might then consist, in the short run, in turning a blind eye to small-scale, reputation-based smuggling.
Until, of course, economic development, universal peace and open borders eventually resolve the problem entirely!
Fabrice Langrognet is a Gates Cambridge scholar at St John's College who specialises in migration in modern historical contexts.
The views expressed in opinion articles published by Euronews do not represent our editorial position. If you want to contribute to our View section, email ideas to: view@euronews.com