Gaza deaths & ongoing clashes after Trump's Jerusalem move
Comments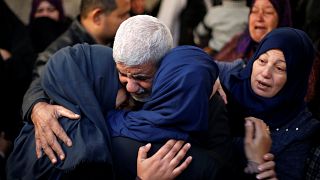 Thousands have attended the funerals in Gaza City and Khan Younis for two Palestinians killed in Israeli airstrikes.
Hamas says two of its gunmen died, while more than 20 other people were wounded, including children.
The Israeli military says it responded to rocket fire from Gaza, saying it targeted four Hamas military locations.
Militants reportedly fired at least three rockets toward Israeli towns from the Hamas-controlled Gaza Strip.
No casualties were reported in Israel.
The Israeli military said it carried out the strikes on a militant training camp and a weapons depot.
But witnesses have told reporters that most of the wounded were residents of a building near the camp.
The firing of the rockets was part of the so-called "day of rage" declared by Palestinian factions in protest at President Trump's recognition of Jerusalem as the Israeli capital.
Clashes between Palestinian protesters and Israeli troops went on into a third day on Saturday, with scores injured in the violence.
At least two people were killed on Friday when thousands of Palestinians demonstrated.
Trump's decision to reverse decades of American policy and recognise Jerusalem as the Israeli capital, as well as start the process of moving the U.S. embassy from Tel Aviv to Jerusalem, has angered the Arab world but also upset Western allies.
Washington 'no longer peace broker'
Palestinian President Mahmoud Abbas has said that Washington can no longer be a peace broker between Israelis and Palestinians.
That spells the end for efforts already underway by Trump's adviser and son-in-law, Jared Kushner, to get negotiations restarted.
Abbas also said on Saturday that he will not meet the U.S. Vice President Mike Pence when he visits the region later this month.
Palestinian Foreign Minister Riyad al-Maliki said there will be no communication between U.S. and Palestinian officials.
The Reuters news agency also quotes a Turkish presidential source as saying that Turkey's President Erdogan and French leader Emmanuel Macron have agreed to work together to try to persuade the U.S to reconsider its decision.
At a security conference in Bahrain, the United Arab Emirates warned that Trump's decision would fuel radicals.
"These issues are a gift to radicalism. Radicals and extremists will use that to fan the language of hate," said the Minister of State for Foreign Affairs, Anwar Gargash.
Trump's team maintains the president is simply implementing what numerous presidents have promised to do but never followed through on.
Presidents Clinton, Bush and Obama decided not to enforce a 1995 law that requires the U.S to recognise Jerusalem as the Israeli capital because of fears it would trigger further unrest in the region.
Trump has also claimed that his new approach will spur both sides to work out their differences and move towards "cooperation" and "understanding".