Firefighters free man from microwave
Comments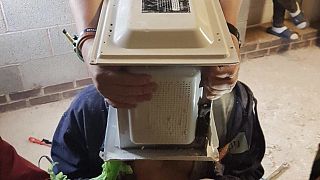 A British man had to be freed by firefighters after his friends trapped his head inside a microwave using cement.
Five firefighters in Wolverhampton, central England, took an hour to dismantle the appliance after the man's friends had used wall filler to fix his head inside.
The 22-year-old's friends had given him a pipe to breathe through and put a plastic bag to separate his head from the cement.
The fire service warned that the joke could have cost the man's life and also put at risk the lives of others by demanding the attention of the fire crew.