Porn actress August Ames dies after Twitter homophobia row
Comments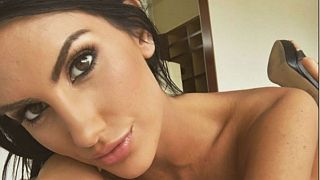 The 23-year-old Canadian, whose exact cause of death is currently unknown, tweeted on December 3 that she did not want to have sex with men who had taken part in gay porn shoots.
"Whichever (lady) performer is replacing me tomorrow for @EroticaXNews , you're shooting with a guy who has shot gay porn, just to let cha know," the post read.
The porn actress' comment was strongly criticized by a number of people online, with some saying she had singled out the gay performer.
One user, who later deleted his Tweet suggested the actress take a cyanide pill.
"Most girls don't shoot with guys who have shot gay porn, for safety," she said in a later post, "my body, my rules. Honestly, I'm sorry if I offended anyone."
Her death also sparked a 4Chan threads in which users planned to target left-wingers, liberals, so-called "social justice warriors" (SJWs), and LGBT activists.
On the imageboard website, where users post anonymously, users posted comments identifying images of Ames they called "wholesome" from which they created memes targeting their political opponents.
Real name Mercedes Grabowski, Ames was a Nova Scotia native and had appeared in hundreds of porn films.
Many of her peers from the erotic film industry have come out in condemnation of those who criticised her.
Brett Rossi, Charlie Sheen's former fiancée, Tweeted: "A beautiful life is GONE because people like to use their 'fan base to bully others because THEiR opinion doesn't agree with YOURS. RiP to a sweet, kind, soul..."
Her husband Kevin Moore expressed his sadness at her death and asked for privacy.
If you want help dealing with online abuse visit Connect Safely's "Tips to help stop cyberbullying" page.