Honduras opposition calls for election recount or run-off
Comments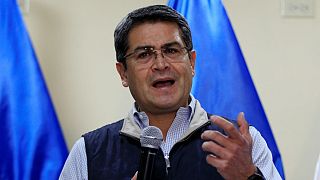 The opposition in Honduras has called for a run-off if a full recount of votes in the disputed presidential elections is not held.
TV personality Salvador Nasralla had claimed victory in the November 26th election after early results put him ahead of President Juan Orlando Hernandez.
But the process suddenly broke down and swung in the president's favour, which Nasralla has claimed fraudulent and is refusing to recognise.
The Electoral Tribunal had already agreed to an earlier opposition demand for a partial recount.
The authority counted about 6% of the votes again on Monday and have agreed to look at ballots from 5,173 polling stations - nearly a third of the total.
Hernandez, who has been praised by the United States for his crackdown on violent street gangs, has also said his party might be willing to check all votes.
The president held 43 percent of votes to Nasralla's 41.4 percent, according to the tribunal's website, with 99.98 percent of the votes counted.
Authorities took a week to count votes in the nation of 9 million people, but the Organization of American States (OAS) said results were marked by irregularities and errors.
The tribunal has not declared an official winner, but the results gave a 1.60 percentage point advantage to Hernandez over Nasralla, who says tally sheets from ballot boxes were altered and declared himself the rightful winner.
Meanwhile, Police officers returned to duty after briefly refusing to enforce a curfew aimed at quelling protests over the political deadlock.
The country's security minister said they were exhausted from working long hours during the election.