It can't be ruled out Rohingya have suffered genocide, says UN rights chief
Comments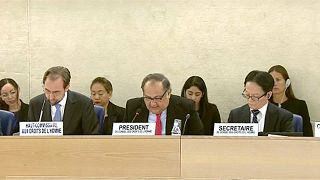 It cannot be ruled out that genocide has been committed against Myanmar's Muslim Rohingya minority.
That from the UN's top human rights official at a special session of the Human Rights Council in Geneva.
Zeid Ra'ad al-Hussein, the UN Commissioner for Human Rights said: "Prosecutions for alleged acts of violence against Rohingya, including sexual violence, whether committed by security forces or civilians, appear extremely rare.
"Considering also that Rohingyas self identify as a distinct ethnic group with their own language and culture and are also deemed by the perpetrators themselves as belonging to a different ethnic, national, racial or religious group.
"Given all of this, can anyone - can anyone - rule out that elements of genocide may be present?"
Hussein also said none of the more than 620,000 Rohingya who have fled Myanmar should be repatriated, unless there is what he calls "sustained human rights monitoring" on the ground.