Tom Hanks receives iconic "toddler" car from Polish fans
Comments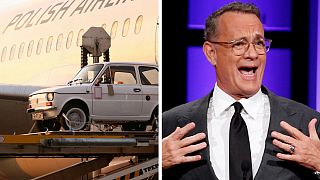 Oscar-winning actor Tom Hanks took his new Fiat 126p car for a first spin, after receiving the classic vehicle as a present from his Polish fans.
On December 1, Tom Hanks officially took over the unique car, the exact same type he seemed to fall in love with in Budapest, Hungary, in 2016.
The actor had posted photos of himself jokingly posing with the tiny car.
While it seemed like a joke, Monika Jaskolska, a resident of the city of Bielsko Biala, Poland, where the car was produced from the 1970s, decided to organise fundraising to send Hanks one of the cars.
She organised a public fundraiser to send a version of the iconic communist-era "toddler" car to the actor. With the help of different sponsors, like Carlex Design and Polish racing driver Rafal Sonik, who offered to renovate the car, a pre-1975 produced model was transformed and redesigned exclusively for the actor. Signs reading "Bielsko-Biala for Hanks" and "One of one" were posted under the Fiat logo on the interior and exterior of the car.
The car was flown to Los Angeles, where Hanks finally could ride it after picking it up at the residence of the Polish Consul General.
The Fiat 126 was a commonly used car in the Soviet Union, the first model was introduced in October 1972. Its size is almost exactly the same as the original British Mini. In Poland, the car became a cultural icon and earned the nickname "toddler". Despite its name, some people say it is possible to fit up to 14 people inside the vehicle.