North Korea blames US for 'nuclear war mania'
Comments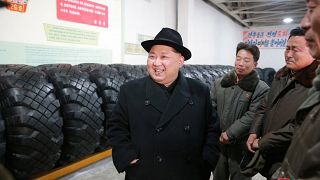 Copyright

KCNA handout via Reuters

-
North Korea has warned the United States would be responsible if the world gets embroiled in nuclear war.
In a statement broadcast on state-run television on Saturday (Dec. 2), the North Korean foreign ministry slammed a planned joint air force drill by US and South Korean forces on the peninsula.
It described it as the largest aerial drill against North Korea and said it risked sparking a "flare-up" in the region.
"If the Korean peninsula and the world are embroiled in the crucible of nuclear war because of the reckless nuclear war mania of the US, the US must be fully responsible for it," it said.
Some 12,000 US personnel will be joining South Korean troops for a military exercise this week, during which 230 aircraft will be flown at eight US and South Korean military installations, according to the US Seventh Air Force.
Six F-22 Raptors and six F-35 U.S. stealth fighter jets arrived in South Korea on Sunday, according to Seoul's Yonhap News agency, citing a military source.
North Korea defied UN sanctions once again last week by testing another missile, said to be potentially capable of striking Washington D.C.
Now US authorities are looking for places along the West Coast to deploy new antimissile defences, Reuters news agency reports.
White House National Security advisor HR McMaster said on Saturday the possibility of war with North Korea was "increasing every day".
"The greatest immediate threat to the United States and to the world is the threat posed by the rogue regime in North Korea and his (Kim Jong Un's) continued efforts to develop a long-range nuclear capability
"So it's immensely important that we work together with all of our allies, partners, everyone internationally to convince Kim Jong Un that the continued pursuit of these capabilities is a dead end for him and his regime."