North Korea launches new ballistic missile 'capable of striking US'
Comments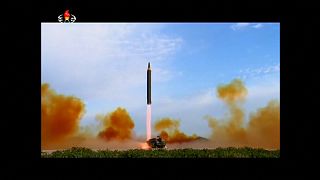 Washington and Seoul have both condemned North Korea's latest ballistic missile test launch with both governments saying the rogue state poses a worldwide threat.
The suspected intercontinental ballistic missile splashed down near Japan but scientists say its steep trajectory indicates Pyongyang could theoretically reach the US capital.
After the launch, North Korean leader Kim Jong-Un said that the country had "finally realised the great historic cause of completing the state nuclear force".
'For the Party and the motherland!'
North Korea's media has claimed the latest test was of a new type of ICBM - the "Hwasong-15" that can reach the United States.
The missile is the North's most powerful ever, and it flew 950 km for 53 minutes while reaching an altitude of 4,475 km, according to a statement read by a television presenter.
A Pyongyang TV broadcast contained a handwritten order by Kim Jong-Un saying: "Fire it bravely for the Party and the motherland!"
The broadcast said the newly developed Hwasong-15 has "much greater advantages in its tactical and technological specifications and technical characteristics" than its Hwasong-14 ICBM, tested twice in July.
"If (today's) numbers are correct, then if flown on a standard trajectory rather than this lofted trajectory, this missile would have a range of more than 13,000 kilometres," the US-based Union of Concerned Scientists said in a statement. "Such a missile would have more than enough range to reach Washington, D.C., and in fact any part of the continental United States."
US reaction
Condemning the launch, US Secretary of State Rex Tillerson said in a statement that North Korea's "relentless pursuit" of nuclear weaspons and the means to deliver them "must be reversed".
US Defence Secretary James Mattis earlier said that the missile launch demonstrated North Korea had the ability to "hit everywhere in the world", CNN reported.
President Trump told reporters at the White House that the US "will handle" the situation. "We will take care of it," he added.
Later he tweeted to press his case for increased military funding in his battle with Congress.
Senior US military advisors have meanwhile said that in response to the test, while diplomacy and denuclearisation are the preferred goals, US forces are in a state of readiness.
Command Sergeant Major John Wayne Troxell, US Army:
"I went and talked to the U.S. troops because I wanted them to understand that, even though nobody wants high-end conflict with Korea, the bottom line, we're charged by our commander in chief to be prepared to fight and win, if we have to."
'We have to prevent war'
South Korea which responded by conducting its own missile firing tests says the launch had been anticipated. It comes just a week after President Donald Trump put North Korea back on a US list of countries which support terrorism.
Fmr. Army Lt. Col. Danny Davis, Analyst, for DefensePriorities.org warned that tensions must be reduced:
"It is crucial that we lower the temperature on the threats and the rhetoric and recognise what North Korea is doing, but we have to prevent war. We cannot start war, we can not use preventive war to think we're going to take out the regime, because it won't. Millions of lives could be at stake here both in South Korea, U.S. personnel and possibly even in the mainland."
The UN Security Council is due to meet on Wednesday to discuss the test. Other than carrying out existing UN sanctions it's unclear what the next steps will be with North Korea clearly unwilling to give up its weapons programme.