UK police officer stops van falling off bridge
Comments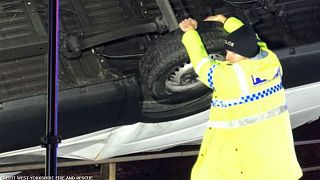 A motorway police officer in Yorkshire grabbed onto a van that was teetering on the edge of a bridge to stop it falling onto the motorway below.
When PC Martin Willis arrived first on the scene on the A1(M) in the north of the UK yesterday (December 1), the driver was still trapped inside the vehicle.
He describes how he held on to the van's tyre to stop it "swaying in the wind" as he waited for backup for what he estimated was 15 minutes.
"Yes I will admit to being quite scared," wrote Willis on Twitter, describing the ordeal as "stressful and cold".
The PC's actions have been praised by members of the public and his colleagues alike with many labelling him a "superhero".
"Wow, that's amazing Martin! You seriously deserve some recognition for that," commented Sgt Chris Harris.
As for the reason that the accident took place, Willis said: "There was a fair bit of snow and ice on the carriageway... is really all I can say..."
The driver of the van, who Willis said remained calm throughout the incident, had serious but not life-threatening injuries.