Is the special relationship under stress?
Comments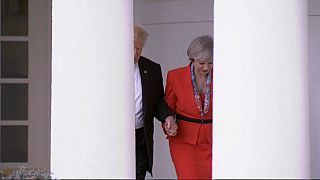 Britain and the United States are said to share a special bond but the current spat between President Donald Trump and UK Prime Minister Theresa May is putting that relationship to the test.
Trump sparked outrage in Britain with a sharp rebuke of May on Twitter after she criticised him for retweeting anti-Islam videos from a British far-right group.
May was swift to respond saying the fact the two countries had close ties did not mean Trump was above criticism.
"The fact that we work together doesn't mean that we're afraid to say when we think the United States have got it wrong and be very clear with them " she said. "And I am very clear that retweeting from Britain First was the wrong thing to do."
Other politicians were likewise critical of the US president.
Communities secretary Sajid Javid, who is of muslim descent, blasted Tump for endorsing the view of a hate filled racist organisation.
Brendan Cox, whose MP wife Jo, was murdered by a far right extremist urged Trump to focus on the daily mass shootings in the US and the disgraceful state of the country's health system.
While Foreign secretary Boris Johnson said Britain First was a hateful group whose views were not in line with British values.
Furious MPs have demanded Donald Trump's State Visit to Britain be cancelled but May has refused to comment, although a date has yet been set