Yugoslavia tribunal to hand down last judgement
Comments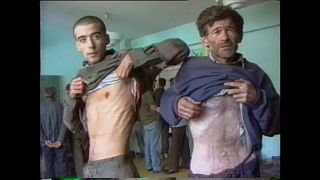 The International Criminal Tribunal for the former Yugoslavia hands down its final judgement in the Hague today. Its verdict concerns an appeal by six high-level wartime Bosnian Croat leaders.
The men were sentenced in 2013 to between 10 to 25 years in prison for crimes against humanity which took place in the southern Bosnian town of Mostar.
The town's iconic Ottoman-era bridge became a symbol of the devastation caused by the 1990s conflct. It was later rebuilt to its former glory. But residents remain sharply segregated by ethnicity.
Anticipating the tribunal's judgement, one local woman said she hoped the men would be released. But opposing opinions can also be heard and one resident said: "every crime has its name and surname. Everyone needs to answer for their own crime."
Among the men appealing is Jadranko Prlic, 58, who served as prime minister in the Croats' wartime breakaway statelet of Herceg-Bosna, which appointed Mostar as its capital.
In his original trial he was sentenced to 25 years in prison on 26 charges of aiding and abetting the murder, deportation and harsh detention of Muslims.
The alleged crimes also include the wartime running of prisons and concentration camps in the area.
Safet Nozic who is a former prisoner of a Croat-run detention camps in Mostar region cannot forget what he went through:
"It was in June, in blazing heat. Between 500 and 600 of us were imprisoned in a metal hangar, dehydrated, and left without water. They left us for three days without a drop of water and without food. As a normal man and a victim I expect justice to be served. I want to hear the truth and then we can leave it to history to piece together all the details."
The defendants who originally turned themselves in to the tribunal in 2004, claim their actions at the time and after the war were an attempt to ensure Croats rights in a new Bosnia. Prosecutors say they were using whatever methods they could to drive Muslims out permanently .