Hamas refuses to give up weapons as part of reconciliation deal with Fatah
Comments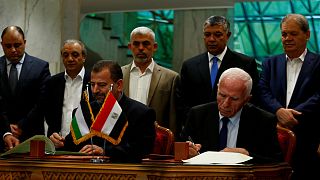 A month ago the signing of a reconciliation deal in Cairo between rival Palestinian factions Hamas and Fatah was hailed as an historic breakthrough.
But now, Hamas, which controls the Gaza Strip, has said it will not give up its weapons.
Describing the handing over of its arms as a red line, one of the movement's senior officials on Monday vowed to launch attacks against Israel from the West Bank.
Khalil al-Hayya said: "These weapons will not be touched. It's not up for debate. These weapons will move to the West Bank to battle the occupation there. It's our right to fight the occupation until it ends. The arsenal of resistance in Gaza? This arsenal is a source of power for all Palestinians."
Under the reconciliation deal, the West Bank-based Palestinian Authority (PA) is due to take full control of Gaza and its border crossings from Hamas this Friday. (December 1). In exchange, the PA, led by President Mahmoud Abbas, is expected to lift restrictions on electricity supply which have crippled the Hamas-controlled territory.