Delight over Harry and Meghan's engagement
Comments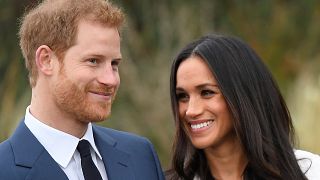 Tourists gathered outside Kensington Palace expressed delight at the news of Prince Harry and American actress Meghan Markle's engagement. As the media frenzy gathers pace ahead of the anticipated wedding in March next year, there are hopes Markle's royal status will bring closer ties between the two countries .
"Awesome, that's so cool congratulations," was the reaction of one young American on hearing the news. Another said she hoped the marriage would bind the UK and the US closer together.
British members of the public were also enthusiastic about Markle's upcoming royal status: "Very good for the country. Very very good choice he's made. I think she could be like Diana," said one older man harking back to the popularity of the late Princess Diana.
One woman saw the love match between Harry and Meghan as a far cry from the marrages of previous royal couples. "It was very different in the old days. When you think poor old Princess Margaret wasn't allowed to marry the man she loved, because he was divorced," she said. "So she had to marry someone else and that ended in divorce. Now they can marry who they like and good luck to them."
For Royal Watchers it's shaping up to be a busy spring with Harry and Meghan's Royal Wedding and the birth of a third child to Harry's brother Prince William and his wife, the Duchess of Cambridge.